Quality & Precision You Can Trust
You take your cooking seriously. We do too.
The Tools of Experience
Having the right tools to hand will help you stay composed and relaxed when it counts. Cooking at the highest levels takes commitment and concentration, but it should be enjoyable too. Even when there's pressure, you want to feel in control. Oui Chef brings the tools, skills and finesse of the world's best chefs to your kitchen.
KNOW EXACTLY WHAT YOU NEED?
Build Your Own Kit
Choose Your Colour
First select the colour for all tools in your kit.
Choose Your Tools
From our comprehensive selection of tweezers, scissors & spoons depending on your needs.
Personalise Your Kit
Upload your restaurant logo and/or initials for custom engraving.
Purchase Your Kit
Your personalised tools should be on their way to you in 1-2 business days.
MAKE IT YOUR OWN
Personalisation
Add that personal touch to your tools with our engraving service. Personalise your own kit or make a gift extra special. Easily add logos, names or initials by following our step by step instructions.
OUI CHEF ESSENTIALS
Featured Kits
Oui Chef Essential Kits
Each chef uses different methods and skills to achieve perfection. At Oui Chef it is important to us that you have the tools you need to do your job effectively so we like to make sure you get a say in choosing your tools. We have put together some of our most popular combinations for you and your team. And don't forget, you can choose your colours, finish and even add personalisation.
Chef's Kitchen Quartet
1 x Large Straight Tweezers
1 x Medium Offset Tweezers
1 x Small Angled Tip Tweezers
1 x SuperSharp® Scissors
Perfect for plating, cooking and finishing at the pass, a great all-round kit.
SuperFine & SuperSharp
1 x Medium SuperFine® Straight Tweezers
1 x Small SuperFine® Angled Tip Tweezers
1 x SuperSharp® Scissors
Perfect for fine dining environments where precision is paramount, delicate finishing, prepping herbs, flowers & microgreens.
Chef's Tweezer Duo Sml/Med
1 x Medium Offset Tweezers
1 x Small Regular Angled Tip Tweezers
Perfect for general kitchen and plating use, cold sections and the pass.
SignatureSpoon Set
1 x Medium SignatureSpoon
1 x Large SignatureSpoon
Perfect for forming picture-perfect rocher, saucing, and serving tableside.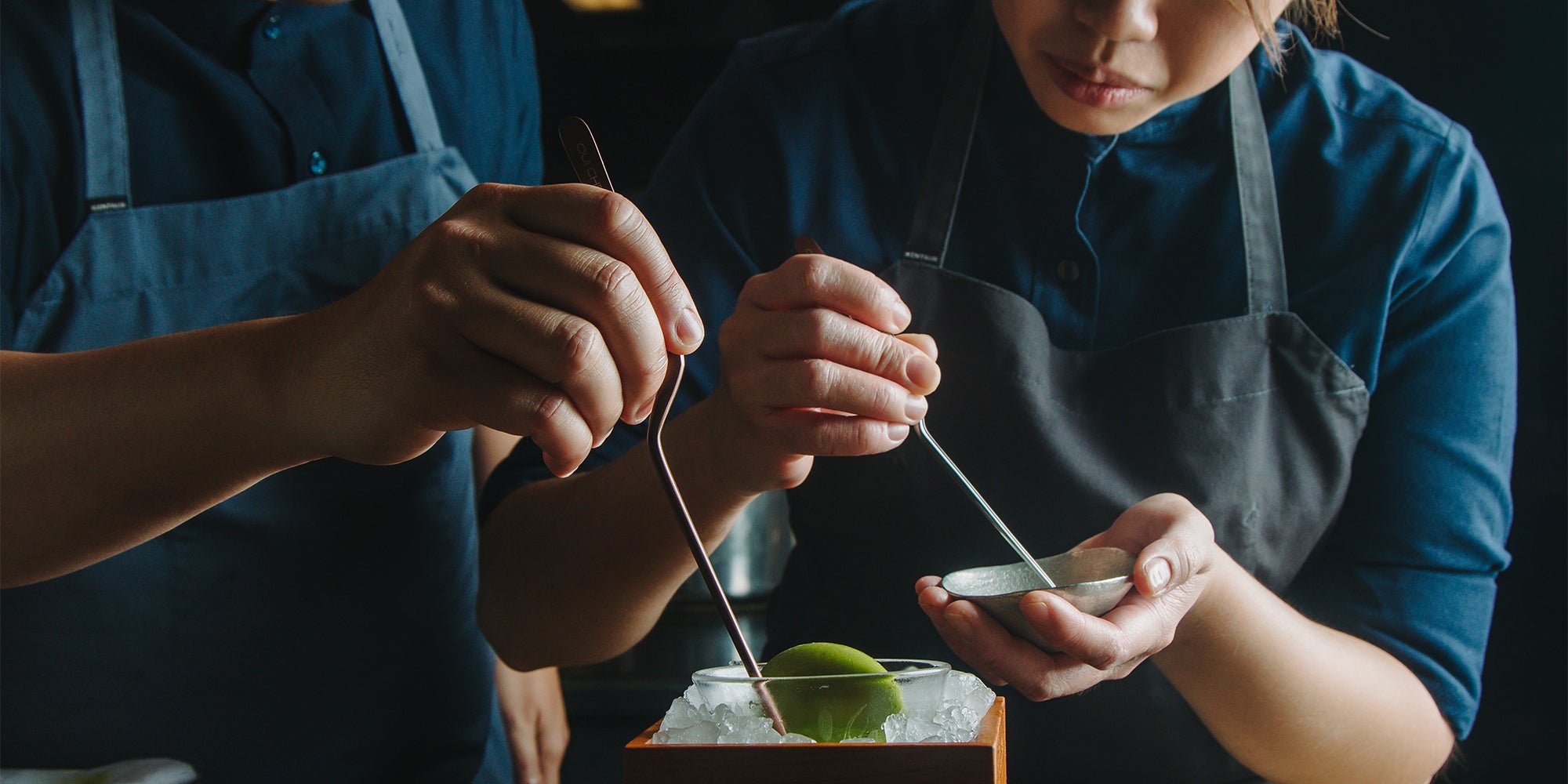 Oui Chef for your business
Team & Large Orders
Some of the best restaurants around the globe gift tools from the Oui Chef range to their team. We offer a variety of different colours and styles depending on your requirements. And, of course, all pieces can be personalised with your logo and/or names or initials. We also work with select brands and stores on collaborations for promotion and retail.